With the arrival of that video in my YouTube feed [the above conversation between Peter Barakan and David Sylvian] the same day that
Cries and Whispers
by Anthony Reynolds arrived, I realised that the photograph of Bill wearing the Margaret Howell tie with the, by then, ex-Japan took place at
Hamiltons Gallery in London, June, 1984, at the opening of the 'Perspectives' exhibition
as David says in that convo with Barakan that he'd first met Bill at that particular exhibition. The book has many colour photographs of that moment ... and yet the one with Bill is missing .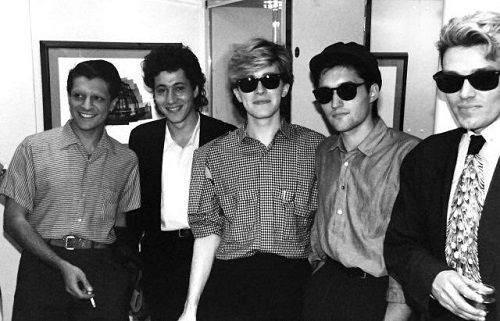 So, voila, mystery solved .
You're welcome .
And I agree with you, JF, with what you said about Bill's playing vis-à-vis Robert's playing ...
Although I remember reading an interview with David sometime between 'The First Day' and 'Dead Bees On A Cake' where he [D.S.] explained that his working relationship with Robert Fripp consisted primarily of Robert improvising and then leaving it to David, alone, to make it all work .
As Bill points out in the
Cries and Whispers
book, David's a superb editor !
It did seem to me though that David was expecting some input from Robert on that double album that he mightn't have gotten ? Pure [almost] conjecture on my part .