alec wrote:
This, according to the website it's from is the first guitar Paul McCartney had :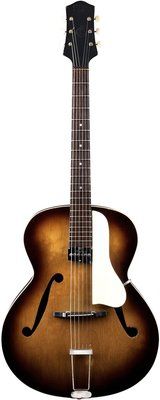 Zenith No. 17
Source:
https://tinyurl.com/ybfsglc4
However ... this one in below link, shortened for convenience, might actually be closer to the one you had ?
https://tinyurl.com/ycbpj8n9
If I remember correctly, the Zenith I had was closer, in colour, to the McCartney one. The main difference though, was that my Zenith had no pickup, it was totally acoustic. Also, it had a certificate inside one of the 'f' holes signed by Ivor Mairantz who, as I've noted, was a session and jazz guitarist. Ivor Mairantz owned a music shop selling guitars in London which, despite his passing many years ago, is still in existence today. I read somewhere that the Zenith was actually made by Epiphone under the Zenith name and imported by Ivor Mairantz to sell using his name as an endorsement on the interior label. Not sure how accurate that story is but it's plausible.